Organic Materials Treatment Technologies
Design – Finance –Operate – Treat – Recycle: a turnkey solution for municipalities
Municipalities face a dilemma when it comes to picking a strategy for recovering and treating organic materials generated in their territory. Which technology best fits their circumstances? How do you go about financing, implementing and running such projects? Allying a thorough understanding of the needs of the entities generating waste and the ones using them, Viridis proposes adapted, realistic and affordable solutions.   Take advantage of Viridis' know-how to help your municipality and the whole province meet its greenhouse gases (GHG) reduction targets!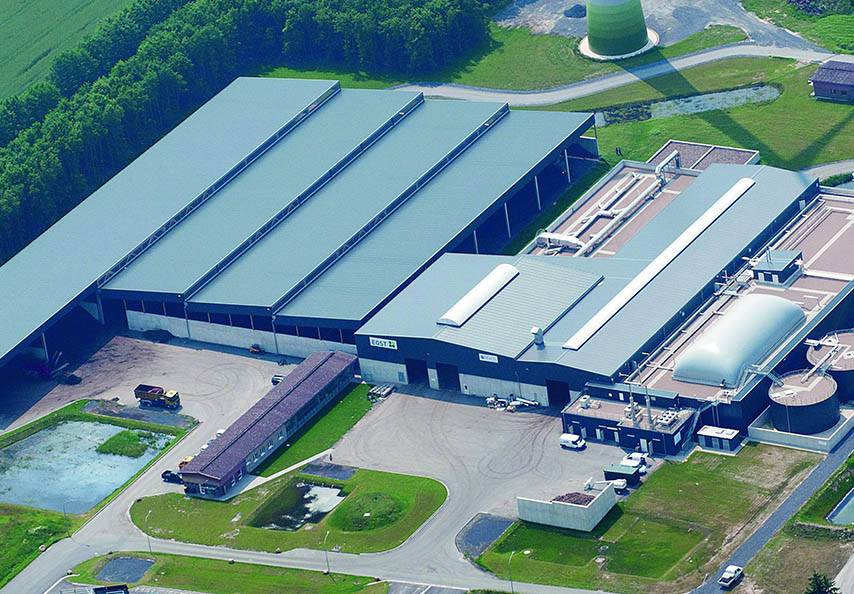 The source-separated organic waste biomethanization plant proposed by Viridis and Énergère is based on a robust, economical and proven German technology with more than 50 sites in operation worldwide.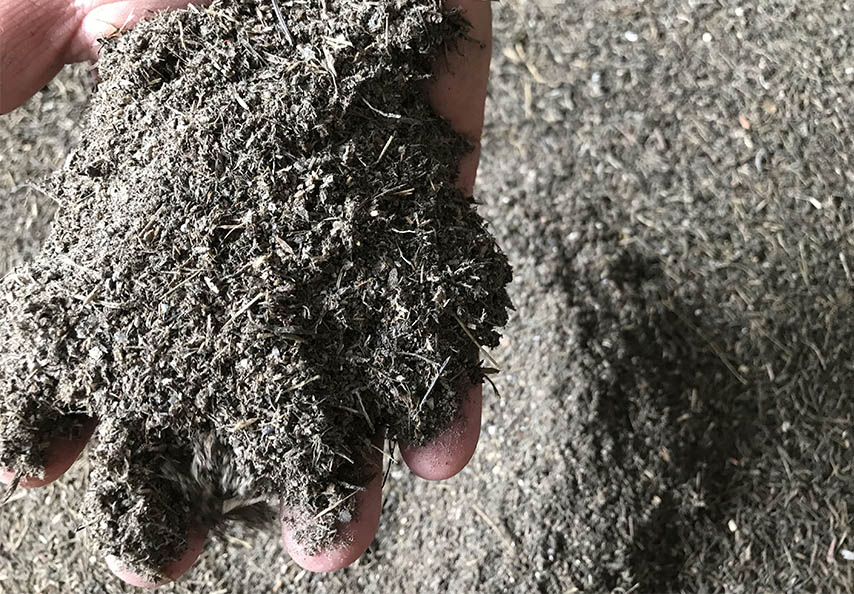 The recyclable final organic product resulting from Viridis' organic matter extraction and treatment process using SHOC® technology.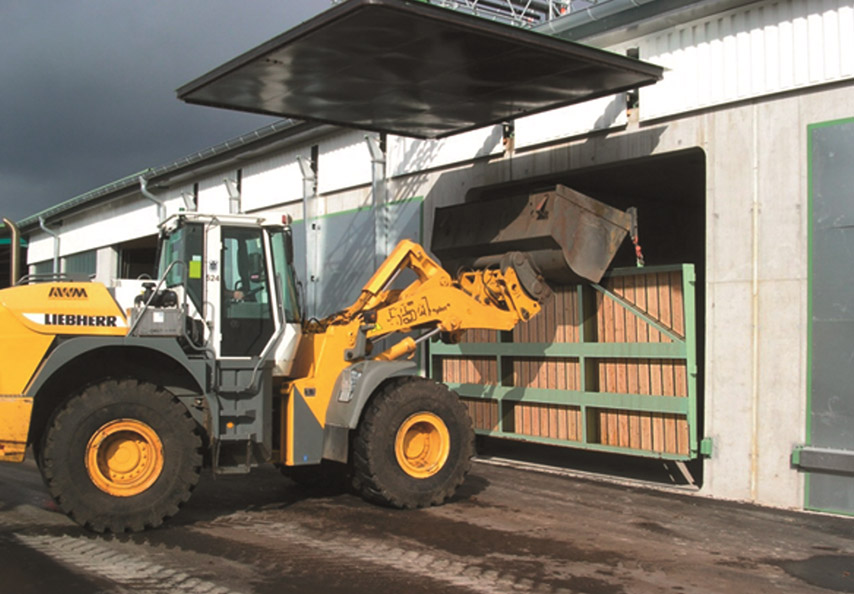 High solids digestion avoids 4-way collection. It is a solution that allows for adequate odour management and maximum social acceptability: returning organic matter to the earth after extracting energy.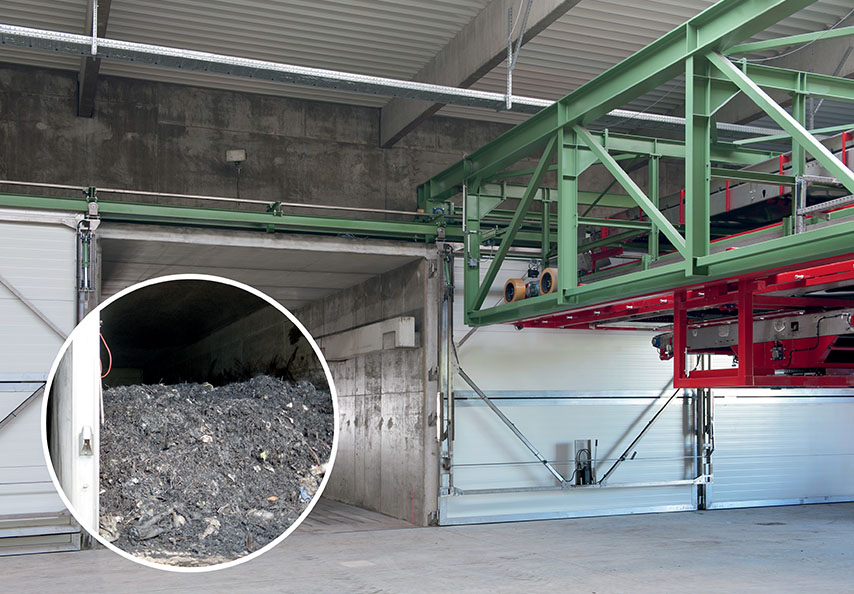 Typical processing capacity is 25 to 100,000 metric tons of ROTS per year per site. Grade A compost can also be produced according to customer requirements.
Biomethanization of Source Separated Organics (SSO)
Viridis and its partner, Énergère, the leader in the implementation and operation of municipal energy infrastructures, are proposing dry process biomethanization for the treatment and recycling of SSOs. The advantage of dry-process biomethanization, unlike the liquid process, is that it can also treat garden residues, which make up a large proportion of organic residues in Quebec. The final product is then returned as agricultural fertilizer through the Viridis and La Coop network, in the interest of an environmental circular economy.
A win-win biomethanization project right down the line:
high solid digestion is a way to avoid four-way collection
the facility is developed, built and run by an experienced team, at no risk to the client
robust, economical and proven German technology, with more than 50 active sites around the world
typically, treatment capacity is between 25 and 100,000 metric tons of SSO per year per site the system ensures optimal production of renewable natural gas (RNG) and recyclable digestate
a Category A compost can also be produced to meet the client's requirements
the project meets current environmental standards
a solution for adequate odour management
maximum social acceptability: return organic matter to the ground after extracting the energy
Viridis proposes to municipalities, RCMs and waste management bodies an innovative solution for the treatment and recycling of organic materials contained in household waste as an alternative to the classical approach of third collection and composting. This new fully organic treatment chain integrates the SHOCTM (Drying and Sanitization by Controlled Oxidation) process, and includes the opening of bags, sieving, bio-drying and organic matter recovery. It yields a quality, hygienic and partially deodorized organic sub-product that can be recycled as fertilizer for agricultural soil or for restoring degraded soils.
Performance
Reduces by 45% the volume of waste going to landfill sites
Produces a material that meets the quality requirements of a recyclable product for agricultural purposes
Paves the way for the recovery of other recyclable materials still found in household waste
Environmental benefits for all of Quebec:
Reduces the number of collection trucks on the roads
Extends the useful life of landfill sites
Improves the GHG balance of municipalities in a viable way: every 10 tons of waste treated by Viridis offsets the annual GHG emissions of one car
Maintains soil quality for greater productivity and better water retention through quality organic material
Composting source-sorted organic fraction of waste
Large-scale composting or on-farm composting offers interesting options for the management of organic matter.  Viridis is working with RCMs and municipalities on implementing technologies for the treatment of residual organic materials, including regional composting projects.  Viridis also offers composting services on the farm for manure and fertilizing residual materials from different sources.
Find out more about the services offered
by Viridis enrivonnement