Environmental Consultation
Viridis environnement, a leader in environmental solutions!
Viridis offers its clients viable solutions that meet environmental, social and cost considerations: sustainable solutions by definition!
Viridis has expertise in a variety of fields, including degraded sites rehabilitation, fertilization of forest settings, product development from fertilizing residual materials (FRM), soil production from FRMs and from decontaminated soil, and waste treatment. 
The company relies on a team of professionals experienced in the design and monitoring of environmental projects, the upgrading and certification of BNQ fertilizing products, the management of the transportation, storage and recycling of waste and the preparation of agro-environmental fertilization plans (AEFPs) agro-environmental recycling plans (PAERs) for agricultural establishments.
The Viridis team includes engineers, agronomists, biologists, technicians and other environmental specialists, and will be able to meet your needs.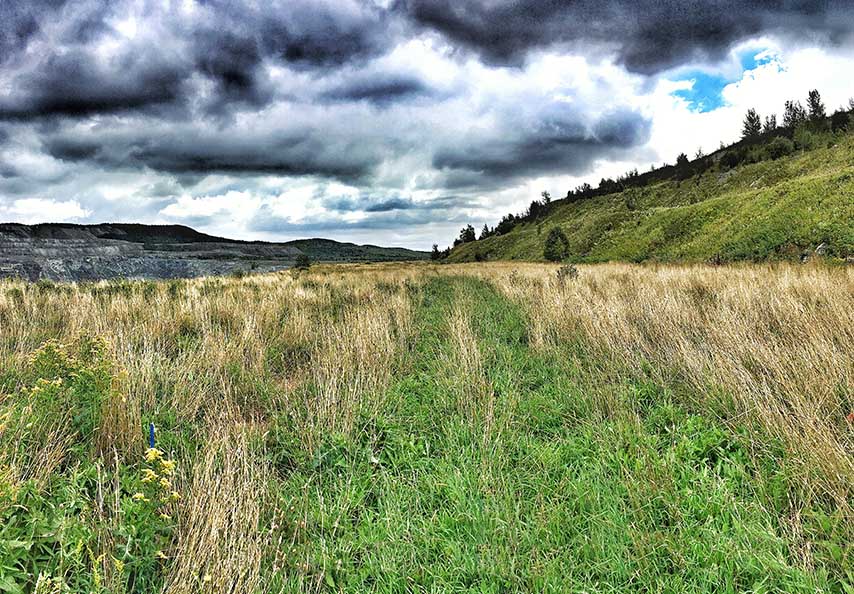 The use of MRFs to restore degraded soil allows work to be carried out at much lower costs than with traditional methods, while providing a fast and efficient way to recreate a sustainable plant cover.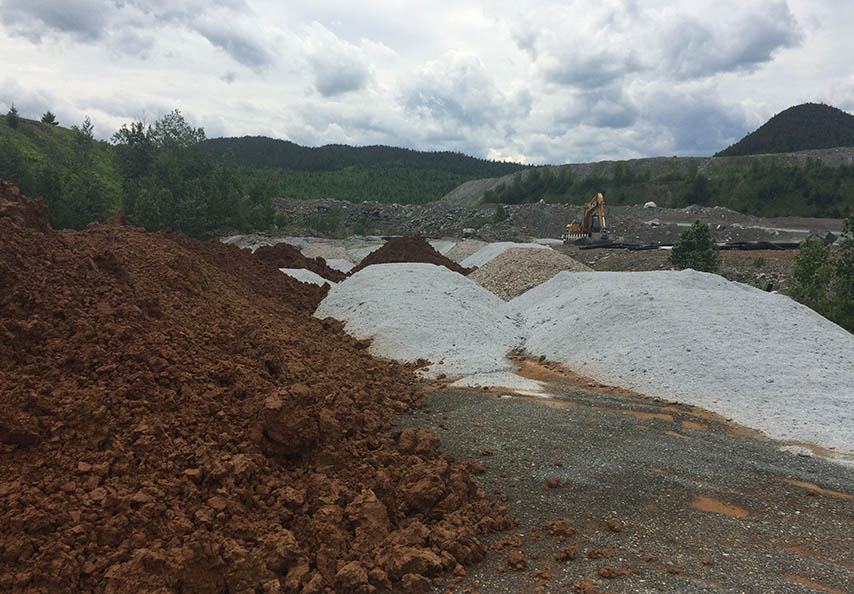 Several types of MRFs are combined to create a balanced substrate conducive to the rapid recovery of plant species specifically selected by Viridis' experienced team..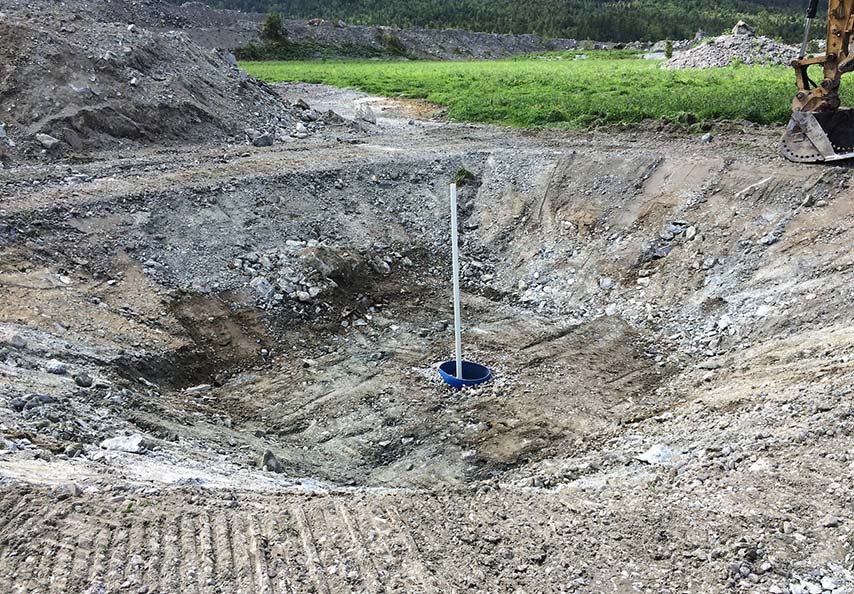 The lysimeters set up by Viridis during restoration projects of degraded sites allow the monitoring of the quality of percolating water.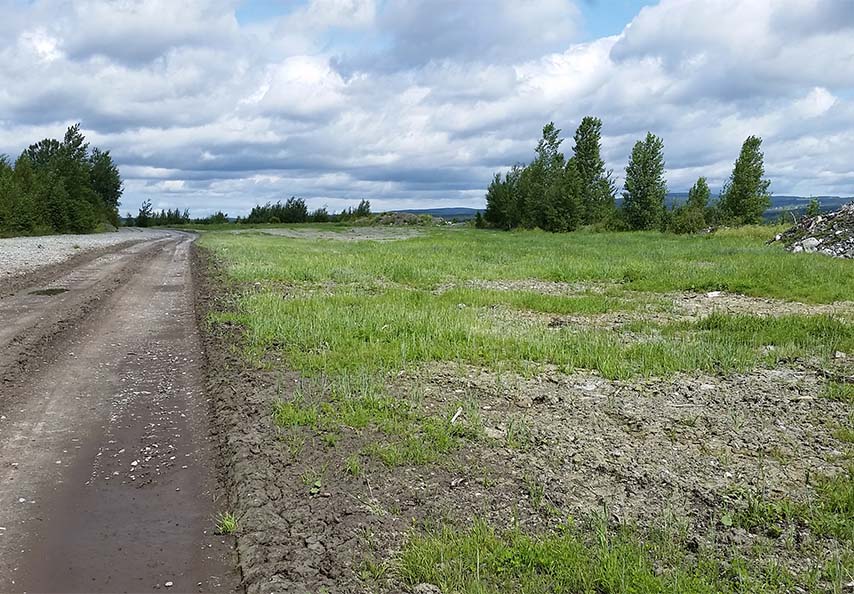 In addition to restoring the site to its original state, the restoration work also helps control erosion through the establishment of a permanent plant cover. This image illustrates the first year of growth of a site that was seeded the previous fall. Eventually, the planted vegetation will cover all bare areas.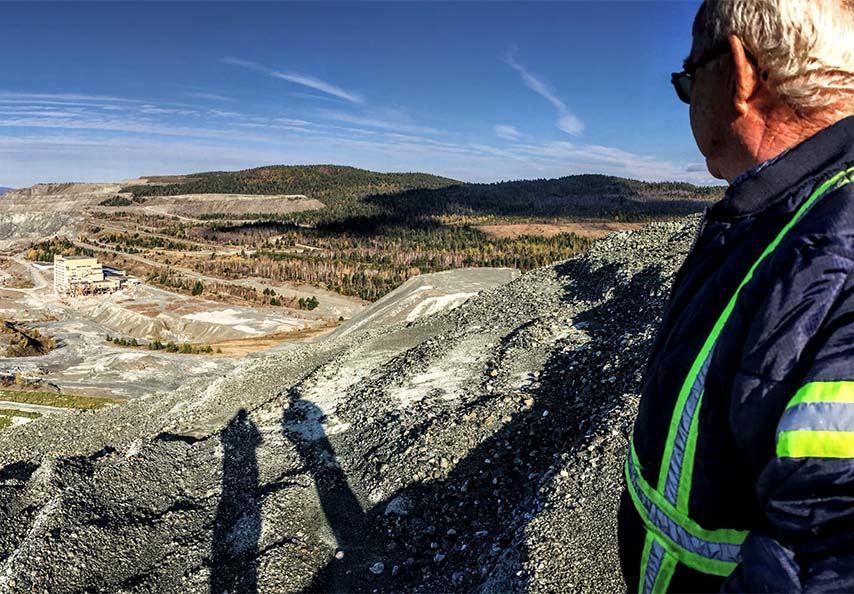 An unobstructed view of the Lab Chrysotyle mine site that allows to differentiate the sterile mining zones from the zones that have been revitalized thanks to MRFs provided by Viridis.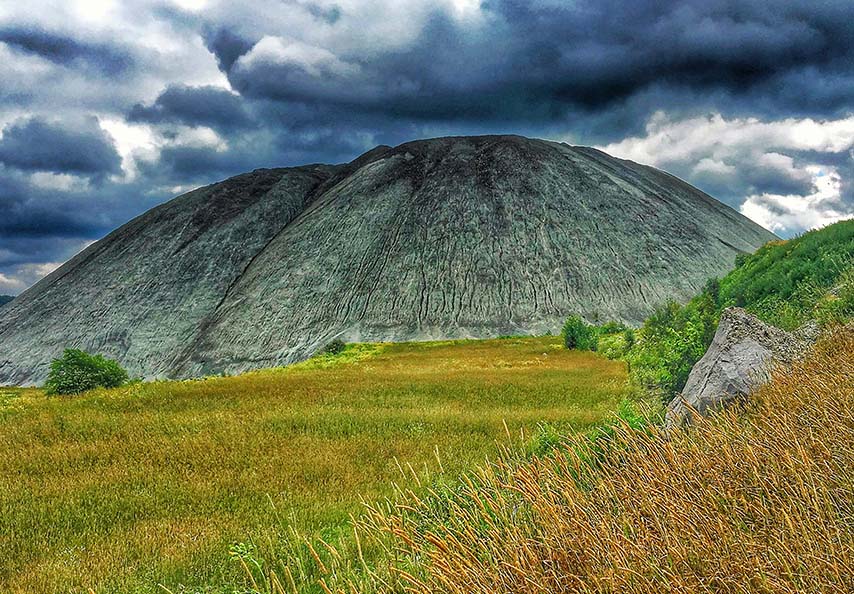 A major challenge that Viridis will soon tackle: the vegetalization of mine tailings, which are a mixture of rock powder and chrysotyl resulting from the asbestos extraction process. The immense plateaux of mine tailings at the Lab Chrysotyle site are particularly prone to erosion and destabilization of their slopes.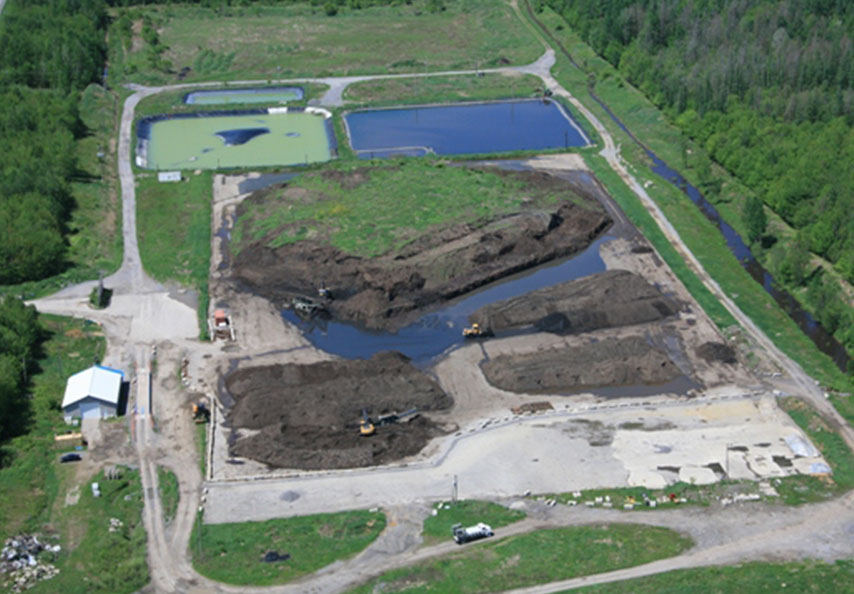 From 2010 to 2013, Viridis and its partners, Sanexen and Transport Serro, proceeded with the cleaning of the former Mauricie Composting site. Viridis thus recycled nearly 300,000 tons of compost on Quebec's agricultural land.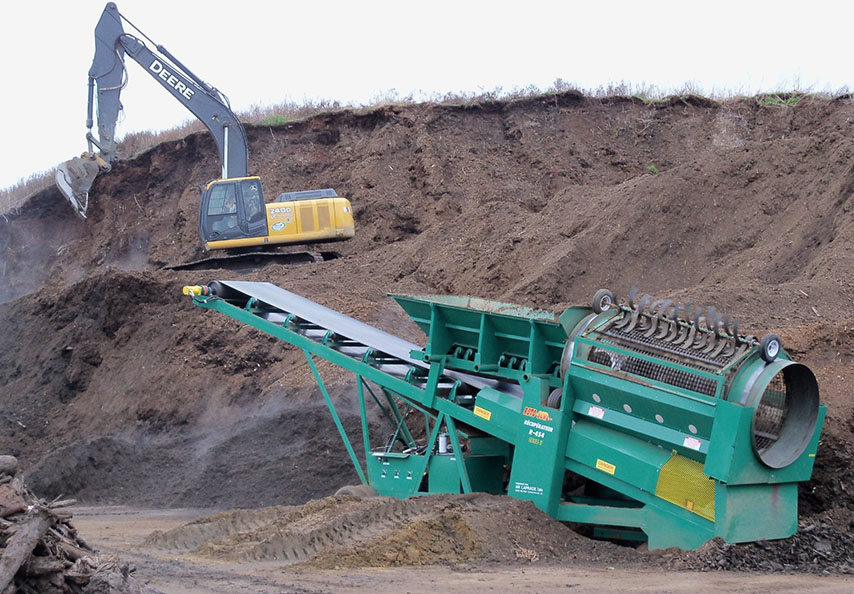 The material from the Mauricie Composting site was immature compost that was sieved and characterized in order to establish appropriate agricultural fertilization plans. This resulted in the distribution of 300,000 tons of quality organic material, most of which was distributed to producers in the region.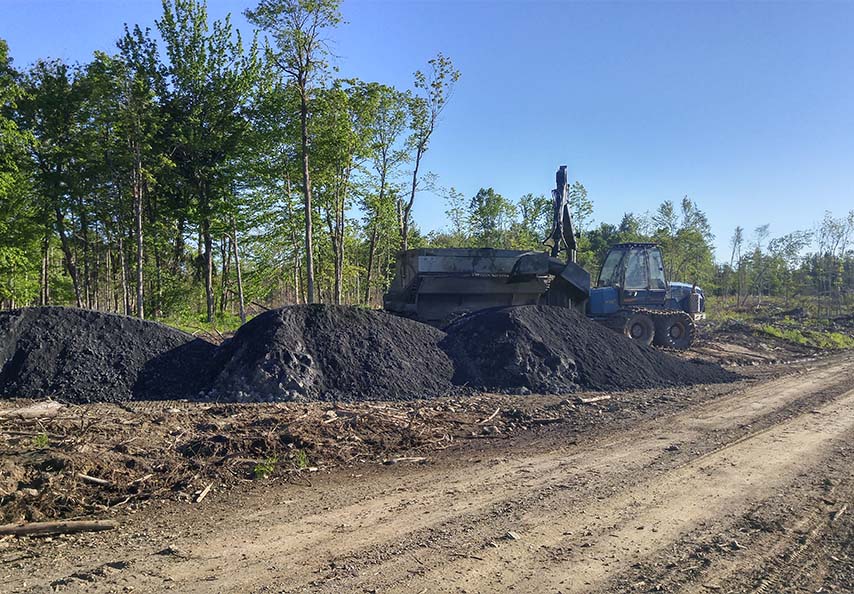 Viridis and Domtar are partners in the realization of remarkable silvicultural plot fertilization projects with a judicious mix of fertilizing and structuring MRFs. Credit: Domtar
Municipal biosolids and liming materials from pulp and paper plants are delivered directly to the forest areas prior to being spread. Photo credit: Domtar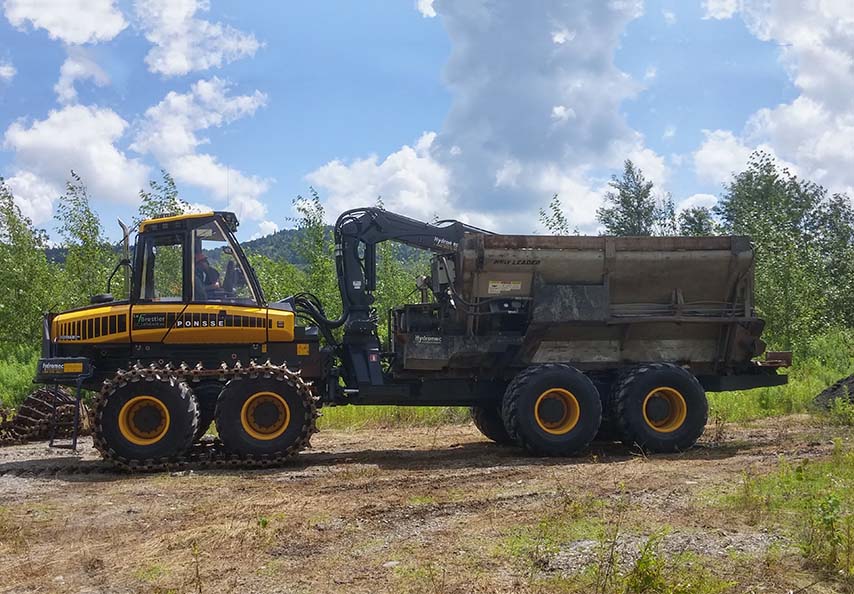 The specialized, high-performance equipment used to spread MRFs in forests was developed by Domtar as part of its fertilization projects. Here, a spreader has been installed on a carrier. Credit: Domtar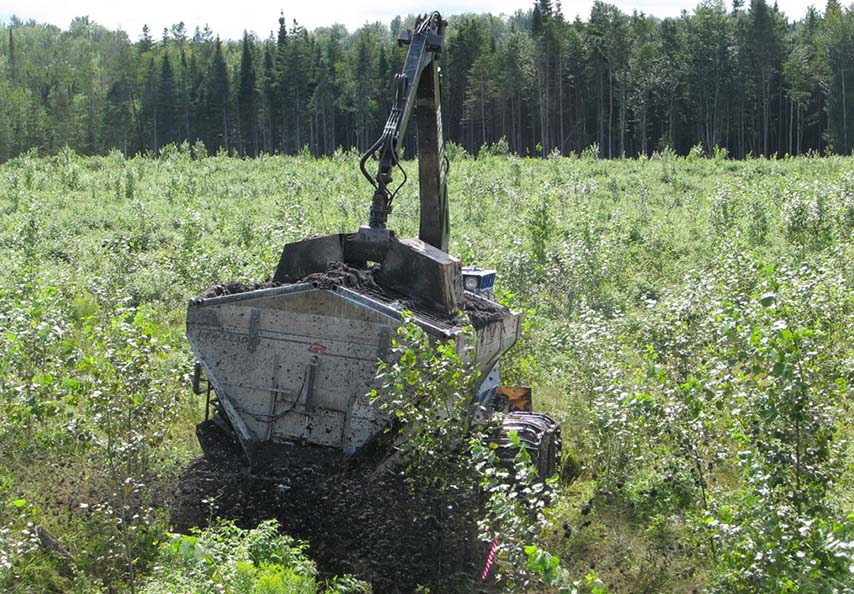 Domtar's equipment must be able to be moved to hybrid poplar plantations to fertilize young trees without damaging them. Credit: Domtar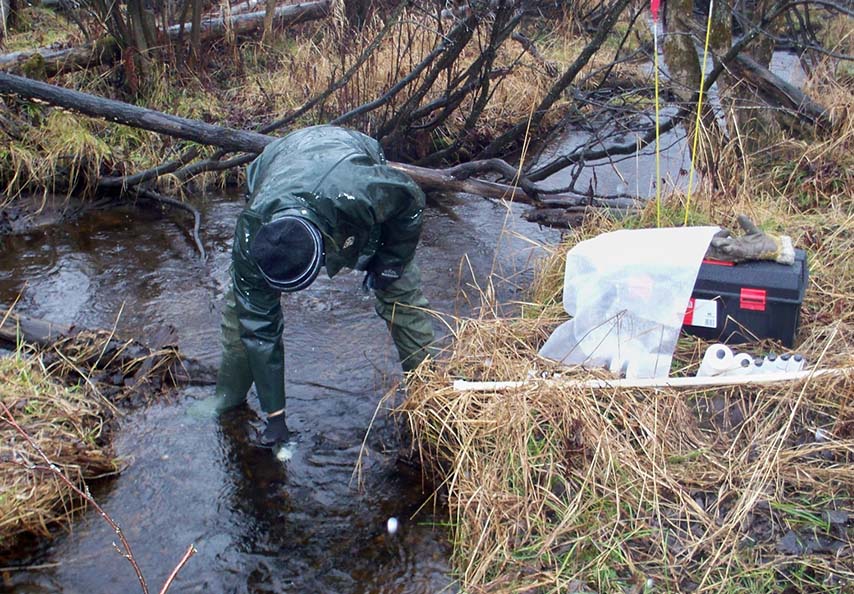 Like all the activities under its responsibility, Viridis rigorously carries out environmental follow-ups during the fertilization activities of forest plots.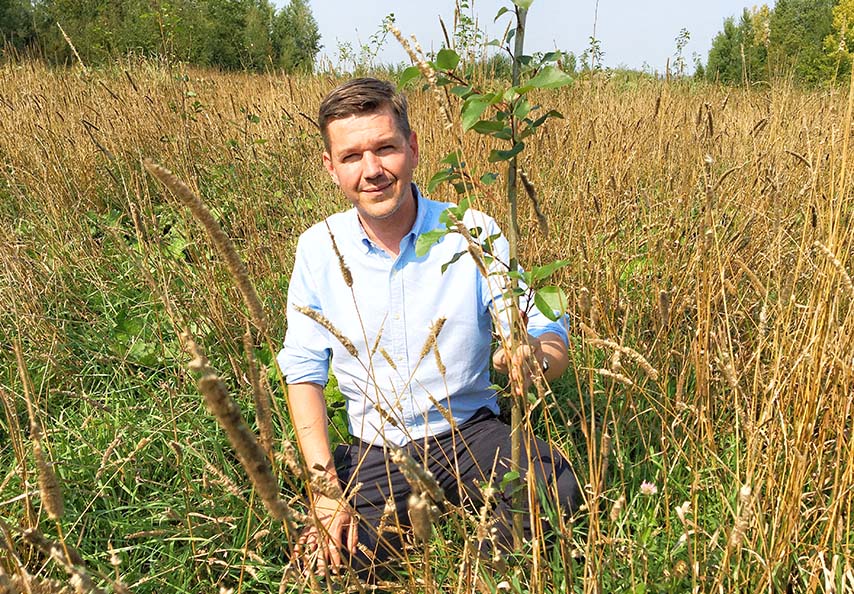 Sterile mine soils can be revitalized with MRFs to the point where trees can be planted. Simon Naylor, co-founder of Viridis, proudly shows a young poplar planted as part of an afforestation project funded by the FRQNT and led by researcher Nicolas Bélanger (TÉLUQ and Centre d'étude de la forêt) in collaboration with Viridis.
Rehabilitation of degraded sites
Viridis offers a turnkey service based on the needs and characteristics of the degraded site. The company relies on a multidisciplinary team in its rehabilitation of mining sites, former landfill sites, and quarries and sand pits that are shutting down. It applies its expertise and services to help clients find economical and sustainable solutions.
The use of FRMs makes it possible to design much more economical projects than those based on traditional methods, while at the same time offering a swift and effective way to recreate a sustainable vegetation cover. In addition to valorizing the site and helping to improve the landscape, the work done by Viridis also helps to control erosion through a permanent vegetation cover.
The rehabilitation work done by Viridis is designed to quickly restore the site ecosystems. Some of the work also helps to control sources of nuisances such as dust, odours and noise.
Our services include:
The provision of substrates and other cover materials
Setup, civil engineering work, etc.
Seeding, fertilizing and performance guarantees
Planting trees or meadow species
Environmental characterization and follow-up
Securing of permits and authorizations
Management of works and sub-contractors
Our clients
The mining industry, MRN, MTQ
Industries dealing with degraded sites
Municipal and public administrations
Landfill site operators
Quarry and sandpit operators
Disposal of type A-B soils
A new solution for A-B soils disposal! The Viridis team proposes efficient solutions, adapted to your needs, to help reduce your cost of disposing of A-B soils, in compliance with the Land Protection and Rehabilitation Regulations, and to make disposal choices that have positive environmental impacts. Viridis' technical services are simple, efficient and ecological, ensuring that your project will be quickly approved (nature of the contamination, soil characteristics, estimated volumes). A scale is provided on site to weigh the trucks, and Viridis is authorized to receive soils that have been characterized in situ or that were treated at an authorized site. Viridis uses type A-B soils to create a substrate that can be used to grow vegetation on the Black Lake asbestos mine rock piles, thereby helping to restore that site and improve the environment!
Fertilization of forest plots
Recycling in forest settings involves applying a fertilizing residual materials (FRM) such as pulp and paper or municipal biosolids, for instance, to existing or even new tree plantations. The FRMs help with the planting and the growth of the trees. Since 2009, Viridis has recycled more than 150,000 tonnes of FRMs in forest settings in connection with the planting of hybrid poplars, in collaboration with pulp and paper industries. Thanks to its expertise in this field, Viridis can provide its customers professional services in regard to the supply, management, technical support and environmental monitoring of the use of FRMs in forest settings. That type of work requires an authorization from the ministère de l'Environnement et de la Lutte contre les changements climatiques (MELCC). According to the MELCC, recycling organic waste is the best way, from the environmental point of view, of disposing of such waste. It entails lower greenhouse gas (GHG) emissions compared to landfill disposal, and promotes the growth of trees, which for their part capture GHGs, providing a twofold advantage. By complying with regulatory requirements and proper agronomic practices, FRM recycling in forest settings represents a highly economical means of fertilization and a global solution for the management of organic waste that poses negligible risks to the environment. The approach contributes to the MELCC's 2020 goal of zero organic waste to landfills.
Contamination soil treatment
Stay tuned for further details about this new service!
Learn more about the services offered by Viridis environnement